AXA JAY AT HER DESK HD VIDEO:16.34
Aza jay is at her desk showing off her lovely legs which she does for a while and then she reveals that her thong is pulled between her pussy lips, Axa likes to do this. Next on the secretary agenda is bending over the desk showing her sexy arse. After this Axa lets us see some very close up shots of her holding her lips far too wide whilst she inserts her pen and plays with her juices. It all gets very dirty and Secretary Axa finishes with a large pink toy in that little wet hole. As always, done in the best possible taste.
Name:

AXA JAY AT HER DESK HD VIDEO:16.34

Content:

16 min. 34 sec.

Model:

Axa

Files:

3GP: 109.46 Mb
WMV: 451.12 Mb
MP4: 367.09 Mb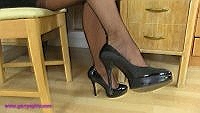 Join now to see full set!