JADE IN RED FENCENET TIGHTS: 173 IMAGES
Jade is posing here in a tiny skirt and red fencenet tights. Jade teases but not for long as she is not wearing any knickers and her shaven pussy is on view as soon as she bends over which is quite soon. Jade is not shy about bending over in front of strangers, even when she has no knickers on. Jade shows her ample cleavage, looks up and licks her lips provocatively. Jade also tips head head back and opens her mouth wide which seems to make her smile as well for some reason, Jade smiles a lot. She can even smile whilst she has her ankles either side of her head and her tights behind her head which makes a very horny view. Lots of wide pussy shots and jade showing off her swollen clit shots. She does like showing everyone her naughty bits and she does it really well because she does enjoy it.
Name:

JADE IN RED FENCENET TIGHTS: 173 IMAGES

Content:

173 Images

Model:

Jade

Files: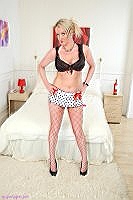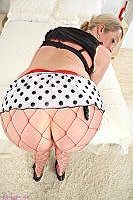 Join now to see full set!