JOJO IN RED PVC DRESS: 272 IMAGES
Young model Jojo here is dressed in a red pvc dress, black fishnet pantyhose with red seams and high red platforms. Jojo thoughtfully rips the pantyhose between her legs so we can see her shaven pussy and so she can insert her fingers. If I was her I would too. Jojo then lies on her back and pulls her arse cheeks really wide which looks just delightful to me. after this she inserts another dildo, then she covers her pussy in lube which is the wrong way round if you ask me but they know best. Although semen coloured lube dripping over her little arse hole onto her toy is not to be missed. Jojo then rips her pantyhose off in a tantrum, models can be so destructive.
Name:

JOJO IN RED PVC DRESS: 272 IMAGES

Content:

272 Images

Model:

Jojo

Files: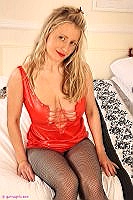 Join now to see full set!